Every Tuesday an open meeting point for collective every day actions.
Participate in the trim tab collective's weekly action night @ Baumhaus.
We come together as neighbors who want to organize their own every day consumption better, nicer and in solidarity. Come by & join us!
This slideshow requires JavaScript.
We're starting at 7pm: the most important news and events around sustainability. Then the space is open for exchange and actions. Every week, we bake vegan cookies, process grains and cook or ferment rescued vegetables, all for taking home. We share things & infos, deliberate about what to do next, teach each other new skills. What can you do better together?
Parallel to our actions, local groups can use the seminar room for their meetings and events, a regular guest is the refugee support network.
18:00 doors open setting-up, volunteers welcome
19:00 news & organizing what do we want to make happen tonight?
19:30 actions food production / workshops / ?
22:00 doors close everybody walks home with cookies and soup
free entrance | food at cost | organized by trim tab collective
Event in German, also for folks who want to practice. Let us know if you need translation help, no problem! hallo@trimtabcollective.org
+++++++
Guest Action Dienstag 13.11. 17:30 – 21:00: Upcycling Mosaik Workshop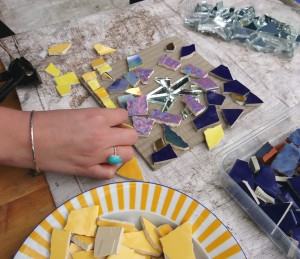 Beim Mosaik geht es darum viele kleine Teilchen zu einem Gesamtbild zusammenzusetzen. Was wäre dafür besser geeignet als Materialien, die sowieso schon zu Bruch gegangen sind? In diesem Workshop wollen wir kaputtem Geschirr und alten Fliesen ein neues Leben als Kunstwerk geben.
Aus einem bunten Materialfundus könnt ihr euch eure Lieblingsfarbkombi zusammenstellen. Nina von MosiMosa zeigt euch wie ihr die Scherben in die passende Form schneiden könnt und sie nach euren Vorstellungen zu einem Bild zusammensetzt. Nach einem Tee- und Kuchenpäuschen geht es ans Verfugen. Et voilà – euer eigenes kleines Mosaik! Jede*r von euch wird Schöpfer*in eines eigenen Wunderwerkes von etwa 15x15cm Größe. Das kann ein Mandala werden, ein Türschild, Untersetzer oder einfach ein schönes Mosaik-Bild.
Bitte mitbringen:
• eure Lieblingstasse/-teller, falls diese kaputt in der Ecke liegen und auf eine Wiederbelebung wartet – gerne auch andere Dinge aus Porzellan oder Keramik, die ihr hübsch findet und mit einarbeiten möchtet
• Kleidung die schmutzig werden kann, denn beim Kleben und Verfugen wird's schmuddelig
Keinerlei Vorkenntnisse erforderlich!
++++++