[:en]
5 – 17 November 2018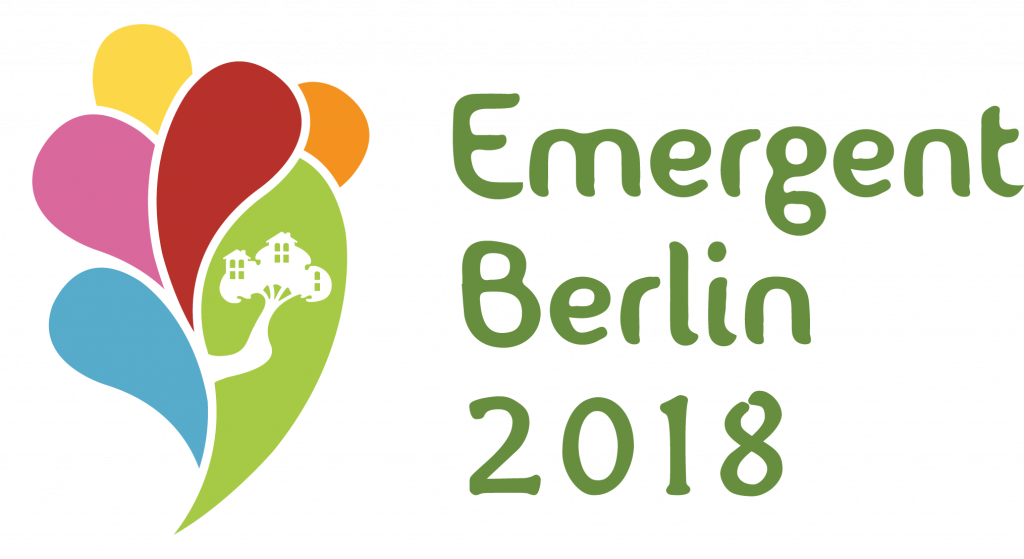 Emergent Berlin is a crowd-sourced and self organized annual gathering of a broad mix of people & projects in Berlin who are working to make the world a better place by making the world a more sustainable place.  We actively explore sustainability from a broad range of personal, ecological, aesthetic, cultural, economic and social perspectives with 2 weeks of events, project presentations, workshops and more!
This year's theme: *i m m e r s i v e   r e a l i t i e s* Program 2018
Hosted by Verein zur Förderung einer nachhaltigen urbanen Kultur (VFnuK) e.V. in cooperation with Das Baumhaus GbR.
THEME 2018: Immersive Realities
i m m e r s i v e : tending to fully dive into, to engage deeply
r e a l i t y : the state of things as they actually exist
The notion of "immersive realities" as a topic was sparked by considering the balance between the amount of time we spend communicating, connecting and interacting in the real world versus time in the virtual, augmented, remote and digital worlds in our personal and professional lives.  How can we shift the balance towards being more immersed in the embodied experiences of the 'real' reality?
It is an invitation to take a closer look at how within our concrete projects, places, events, lifestyles and interactions, we can create situations that open opportunities for a more embodied experience of sustainability.  It's within those moments of being immersed in balanced relationships to ourselves, each other and the world, that can bring a deeper understanding of and deeper engagement with acting sustainably.
Call For Participation – contribute a project presentation, a workshop, your experiences, stories, questions, ideas or your time helping out…

Food for thought – How can we create more experiences that resonate?  What kinds of real impact do we want to have in the 'real' world?  What are some ways we can immerse ourselves in more 'real' realities?  How can we make living sustainably our reality?  And how do we want to further grow those immersive realities?
[:de]
5. – 17. November 2018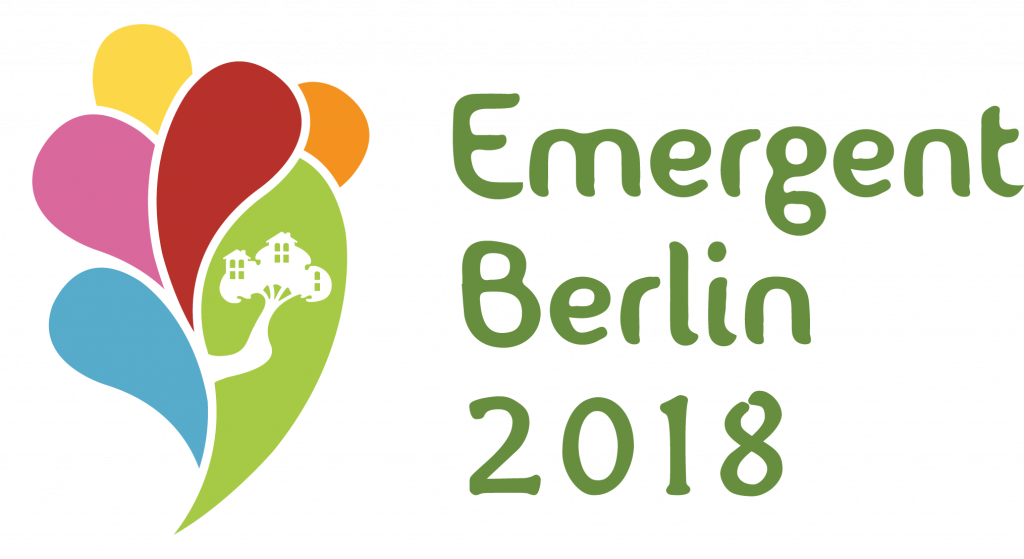 Emergent Berlin ist eine selbstorganisierte jährliche Zusammenkunft von einem bunten Mix aus Personen & Projekten in Berlin, die sich für eine bessere, nachhaltigere Welt einsetzen. Wir erforschen gemeinsam Nachhaltigkeit aus einem breiten Spektrum an persönlichen, ökologischen, ästhetischen, kulturellen, ökonomischen und sozialen Perspektiven – 'crowdsourced', mit 2 Wochen voller Treffen, Projektpräsentationen, Workshops und mehr!
Dieses Jahr mit dem Schwerpunkt-Thema: *i m m e r s i v e   r e a l i t i e s* Programm 2018
Verein zur Förderung einer nachhaltigen urbanen Kultur (VFnuK) e.V. in Kooperation mit Das Baumhaus GbR.
THEMA 2018: Immersive Realities
i m m e r s i v e : die Tendenz, in etwas vollständig einzutauchen
r e a l i t y : der Zustand der Dinge, wie sie tatsächlich existieren

Die Idee von "immersive realities" als Thema entstand, als wir das Verhältnis zwischen der Zeit betrachtet haben, die wir kommunizierend, verbindend und interagierend in der realen Welt verbringen vs. der Zeit in den virtuellen, 'augmented' (erweiterten), entfernten und digitalen Welten unserer persönlichen und professionellen Leben. Wie können wir das Gleichgewicht so verschieben, dass wir mehr in der körperlichen, erlebbaren, 'realen' Realität sind?
Unsere Einladung: Lasst uns genauer hinschauen, wie wir innerhalb unserer konkreten Projekte, Orte, Lebensstile und Interaktionen solche Situationen schaffen, die Möglichkeiten für mehr verkörpertes Erleben von Nachhaltigkeit eröffnen. Es sind diese Momente, in denen wir in ausgewogene, resonante Beziehungen zu uns selber, zu anderen und zur Welt eingetaucht sind, die uns ein tieferes Verstehen und tieferes Engagement für nachhaltiges Handeln bringen.
Einladung zum Mitmachen – tragt zum Programm bei, mit einer Projektpräsentation, einem Workshop, euren Erfahrungen, Geschichten, Fragen, Ideen, oder mit euer Zeit und helft mit…
Einige Fragen – Wie können wir mehr Erlebnisse von Resonanz schaffen? Welche Art von Wirkung wollen wir in der 'realen' Welt haben? Was sind einige der Art und Weisen, wie wir selber tiefer in 'reale' Realitäten eintauchen können? Wie können wir nachhaltiges Leben unsere Realität machen? Und wie wollen wir diese Art von immersiven Realitäten weiter wachsen lassen?
[:]