[:de]Ein spätes Sonntagsfrühstück für die Nachbarschaft. Alle sind herzlich eingeladen! Am Sonntag von 11 – 13 Uhr (Crossfit gym at Gerichtstr. 23, 3.HH, EG.). Bringt etwas zu Essen oder zu Trinken mit, teilt mit allen anderen und lernt eure Nachbarn und soziale Projekte kennen!
* Bei Fragen, Kommentaren und Teilnahmebestätigungen schreibt uns per Email: emergent.berlin@gmail.com[:en]Neighborhood-Potluck-Brunch on Sunday morning from 11am – 1pm! We invite all our neighbors to prepare a dish to share and bring it by the Crossfit gym at Gerichtstr. 23, 3.HH, EG.
* Contact us at emergent.berlin@gmail.com with questions, comments and confirmation of your participation.[:tr]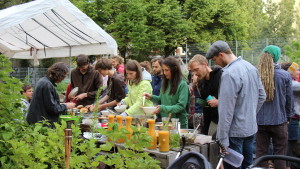 Pazar günü saat 11:00 ile 13:00 arasında bütün komşularımızı Art Loft Berlin'e (Crossfit: Gerichtstr. 23 – 3.HH EG) hazırladıkları yemekleri getirip paylaşabilecekleri brunch'a bekliyoruz. Brunch sonrasında tüm komşularımızı, mahallemizi, Gerichtstr çevresini ve Wedding'in tamamını nasıl geliştirebileceğimiz hakkında bir oturuma davet ediyoruz!
* Sorularınız, yorumlarınız ve katılım onayınız için lütfen emergent.berlin@gmail.com ile iletişime geçiniz.[:]