[:en]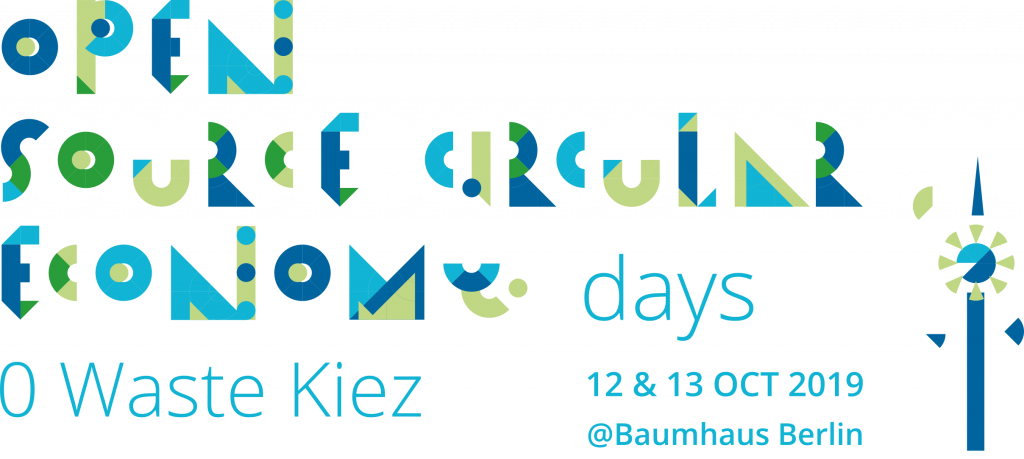 "0 Waste Kiez"

(de)
The Open Source Circular Economy Days (OSCEdays) Berlin are back in 2019! As every year, it's about openly sharing knowledge for a sustainable, waste free world and for a circular economy.

This year, the OSCEdays is co-hosted by Baumhaus Berlin as a part of the 7th annual Emergent Berlin Fest. The Baumhaus collective is running an open project space for sustainability in Berlin-Wedding and is currently developing a new project for next year.  Baumhaus and it's neighbors want to bring their "Kiez" (= Berlin style neighborhood) on the path towards Zero Waste – and become the first Zero Waste Kiez in the city. That's why the OSCEdays comes to Baumhaus this year. On-site, for two days, we'll do practical and theoretical experiments for transitioning a Kiez into a zero-waste-circular-kiez! Join us, contribute or just drop by!

*The OSCEdays are opening this year's Emergent Berlin Festival – ten days of exploring the question, "How we can design our places & spaces in the offline-world better and more sustainably?"  A waste free, non-toxic, climate friendly neighborhood is part of that for sure, and that's why the festival opens with the OSCEdays and this theme.
TICKETS
PROGRAM 
\(●◠‿◠●)/
see you at the event!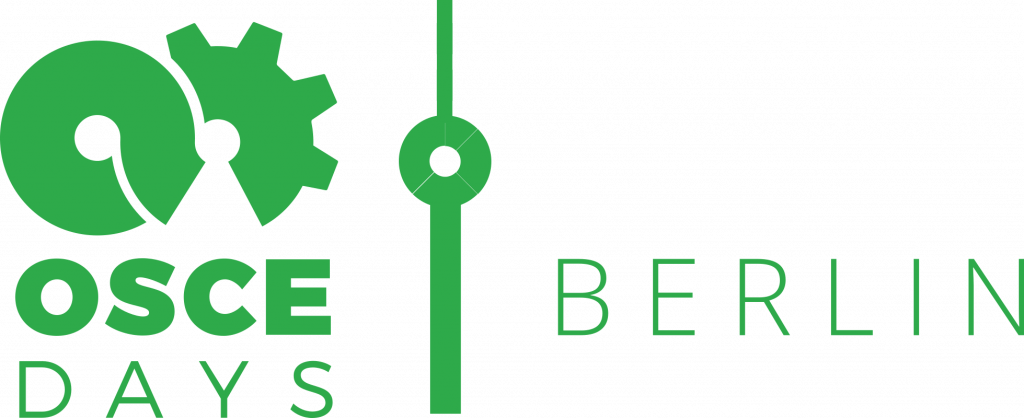 ARCHIVE: Call For Content 2019: Contribute a Session, Workshop or Lecture

We're looking forward to your ideas and program contributions, from practical hands-on workshops, e.g. bioplastic and waste reduction or street art, to lectures and thinking sessions on the topic.
Please send your contribution by e-mail to info@baumhausberlin.de with (1) a title, (2) a short description incl. a short info about you with links, (3) needed equipment, e.g. beamer, table, stove, and, if you have one (4) a pic as well. You'll hear back from us by October 1st the latest. If you have any questions, don't hesitate to contact us. You can also give us a call: 017621865009 (Lars)
PER MAIL TO: info@baumhausberlin.de
More Info

Here a few links with info about the event, the hosts, the ideas etc.
• the global OSCEdays-Project (OSCEdays Berlin is a part of it)
• the hosts: Das Baumhaus, Mifactori & Open Circularity (so far, more partner to come)
• OSCEdays Berlin 2018 – Website – Program – & FAQ
• OSCEdays Berlin 2017 – Report – Program – Pics
• Video & Essay: "Open Source Circularity – what is it and why do we need it? "?
• Make it Circular – a open poster with instructions for sustainable design
"0 Waste Kiez"

(en)

Die Open Source Circular Economy Days (OSCEdays) Berlin sind 2019 wieder da! Und wie jedes Jahr geht es wieder um das offene Teilen von Wissen für eine nachhaltige müllfreie Welt und Kreislaufwirtschaft.

Die OSCEdays haben dieses Jahr das Emergent Berlin Fest bzw. dessen Veranstalter Baumhaus Berlin als co-host. Das Baumhaus-Kollektiv betreibt einen offenen Projektraum für sozial-ökologischen Wandel im Wedding und entwickelt gerade ein neues Projekt: im kommenden Jahr wollen das Baumhaus und seine Nachbar*innen ihren Kiez auf den Weg zu Zero Waste bringen – und der erste Zero Waste Kiez der Stadt werden. Deshalb kommen die OSCEdays dieses Jahr ins Baumhaus. Vor Ort werden wir zwei Tage lang praktische und theoretische Experimente machen zur Umgestaltung eines ganzen Kiezes zum Zero-Waste-Kreislaufkiez! Macht mit, bringt euch ein oder kommt vorbei!

*Die OSCEdays stehen am Anfang des Emergent Berlin Festivals, das für insgesamt zehn Tage der Frage nachgehen wird, wie wir unsere Orte in der Offline-Welt besser und nachhaltiger gestalten können. Und ein müllfreier, giftfreier, klimafreundlicher Kiez gehört bestimmt dazu und darum eröffnet das Festival mit den OSCEdays und diesem Thema.
TICKETS
PROGRAM 
\(●◠‿◠●)/
Wir sehen uns im Baumhaus!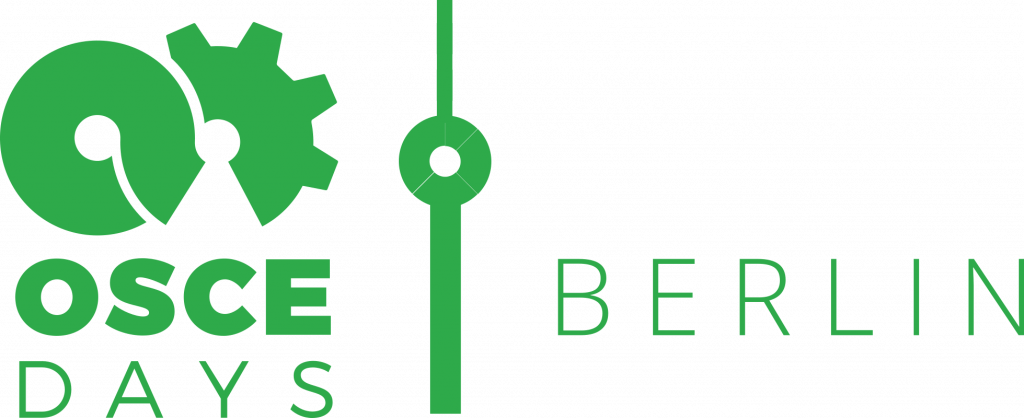 ARCHIV: Call For Content: Session, Workshop oder Vortrag einreichen
Wir freuen uns über eure Ideen und Programmpunkte von praktischen Hands-On-Workshops z.B. zu Bioplastik, Müllvermeidung oder Street-Art über Vorträge bis hin zu Nachdenksessions zum Thema.
Schickt uns euren Beitrag per Mail an info@baumhausberlin.de mit (1) einem Titel, (2) einer Kurzbeschreibung der Session inklusive einer kurze Beschreibung zu euch und eventuell Links, (3) benötigter Ausstattung wie z.B. "Beamer, Tisch, Herd", und, falls ihr eins habt, (4) auch einem Bild. Bis spätestens 1. Oktober hört ihr von uns zurück. Fall ihr Fragen habt, könnt ihr auch einfach anrufen: 017621865009 (Lars)
PER MAIL AN: info@baumhausberlin.de
Mehr Infos
Hier sind ein paar Links mit Informationen zum Event, den Veranstaltern, den Ideen dahinter usw.
• Das globale OSCEdays-Projekt von dem Berlin ein Teil ist
• Die Veranstalter: Das Baumhaus, Mifactori & Open Circularity (bisherige Liste, weitere Partner folgen)
• Die OSCEdays Berlin 2018 – mit Website – Programm – & FAQ
• Die OSCEdays Berlin 2017 – Bericht – Programm – Bilder
• Ein Video und Essay zur Frage: "Was ist Open Source Circular Economy"?
• Baue Kreisläufe – Ein Poster mit Anleitungen für nachhaltiges Design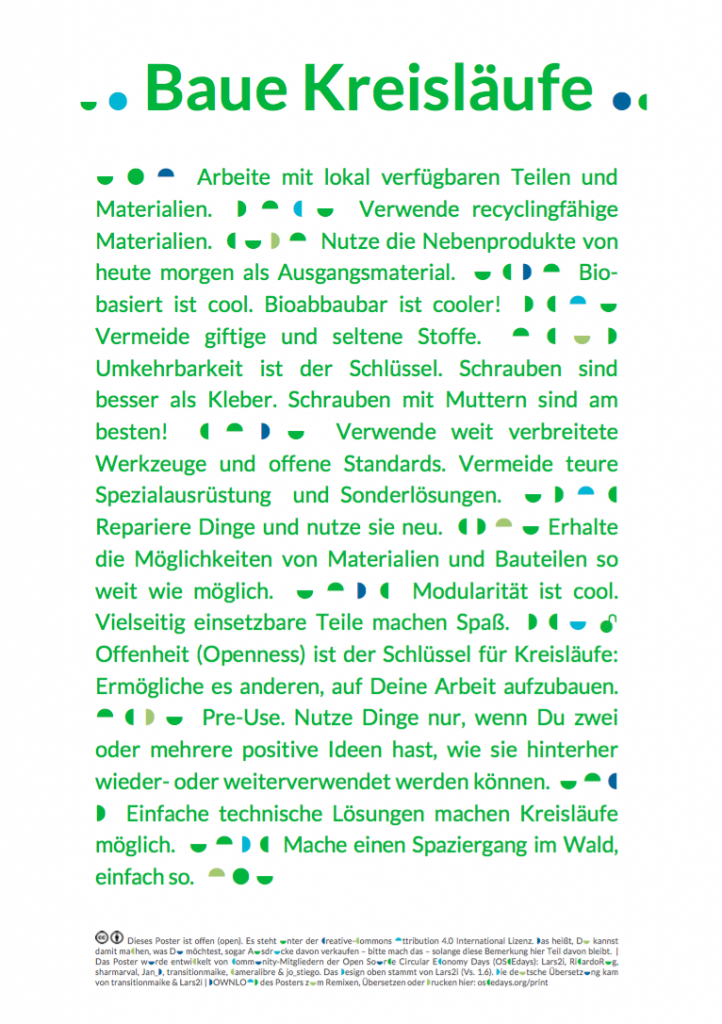 [:]