• Earthships (12 – 1.30pm) @ Outside (Meet at InfoPoint)
• Yoga (3 – 4pm) @ Outside (Meet at InfoPoint)
• Fahrrad – Selbsthilfe (5-7pm) @ Outside (Meet at InfoPoint)
• Makers Space (1 – 5 pm) @ Blink Blink
• Yoga & Meditation classes (11am – 3:30pm) @ Berg Burg
•  Be(e) School (3.30 – 5pm) @ Berg Burg
• Lachyoga (5.15 – 6.15pm) @ Berg Burg
• Contact Improvisation Dance (1.30 – 2.30pm) @ Lottas Jitterbugs
• Local Empowerment – Polly & Bob (1.30 – 3pm) @ Lottas Jitterbugs
• Swing Dance (3 – 4pm) @ Lottas Jitterbugs
• Dojo4Life (3.30 – 6pm)@ Lottas Jitterbugs
• Dance & Be Beautiful (4.30 – 6pm) @ Lottas Jiterbugs
• Tango for Beginner (5 – 6pm) @ Tangoloft
• PsihoArt Lab: REconnect (3 – 4.30pm) @ Baumhaus
More Infos about some of the Workshops
Earthships
(12.00 – 13.30Uhr) @ Draußen (Meet at InfoPoint)
Earthships are the answer to the boundless waste production of modern civilisation, the rampant dissipation of drinking water and energy, the escalating costs of centralized supply systems and the obvious imbalance between modern architecture and nature. These living structures provide a temperate climate all year round without heating and supply water, electricity and food for the inhabitants by using as little resources as possible while entirely off-grid. After 40 years of trial and error development by the architect and visionary Michael Reynolds – also known as the Garbage Warrior – a new generation is taking his results to a new level, emphasizing communal building and living, permaculture principles and integration into ecological cycles. www.earthship-deutschland.de
Hatha Yoga for Whole System Healing 
(15 – 16 Uhr) @ Draußen (Meet at Infopoint)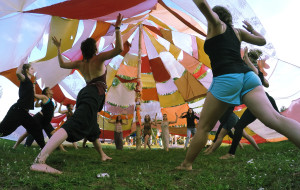 A one hour Hatha Yoga class for all levels, with the theme of healing yourself in order to heal your community. Taught in English. More info on my classes at http://www.sarahrosemaryyoga.tumblr.com
Fahrrad – Selbsthilfe
(15 – 19 Uhr) @ Draußen (Meet at InfoPoint)

Bicycle workshop with Klaus
Makers Space
(13 – 17 Uhr) @ Blink Blink

Open Greeting Zone Signs and Neighbourhood signs
Yoga & Meditation classes
(11 – 15.30 Uhr) @ Berg Burg

• 11am Yoga with Mary Beth http://bergburg.com/marybeth
• 12:30pm Meditation with Eddy Vero http://bergburg.com/eddy
• 2pm Yoga with Christoph http://bergburg.com/christoph
Be(e) School
(15.30 – 17 Uhr) @ Berg Burg

Taucht ein mit uns, in einen Erfahrungsraum von Selbst und Wir und der Verbindung dazwischen. In diesem Workshop geht es um Sehnsucht und Wirken in der Welt, mit der Be(e) School, die ab Januar 2016 wieder eine Jahresgruppe anbietet. Dolores Richter, Dirk Adams, die Caravan GbR (Christian Triebel und Katrin Hönemann) und Marleen, sind die Be(e) School und bieten eine Be(e) Schnupperstunde im Sinne eines Erfahrungsraumes.
Die Be(e) School ist ein Jahresprogramm und möchte Menschen verbinden und ausbilden, die sich kooperativ und ganzheitlich für das Wohl des Lebens auf dem Planten engagieren und dabei mit ihrem jeweils persönlichen Beitrag wirken. Dafür schafft die Be(e) School einen Raum von vielfältigen Begegnungen, indem über eine persönliche Entdeckungsreise zum eigenen Potenzial und die Erfahrung eines größeren "Wir-Gefühls", neue Handlungsspielräume entdeckt, erlebbar und anwendbar werden.
Mit einem 60-90 minütigem Programm öffnen wir einen Raum, indem persönliche Sehnsüchte Platz bekommen und in einem angebotenen "Wir-Gefühl" einen verbindenden Austausch mitgestalten. Kleine Spiele bringen Erkenntnisse und Fragen zu Gruppendynamiken. http://bee-school.org
Lachyoga
(17.15 – 18-15Uhr) @ Berg Burg

Lachyoga ist eine wunderbare Möglichkeit, loszulassen und ganz im Moment anzukommen. Es ist gut für die Stimmung, weil es Endorphine im Gehirn freisetzt und gut für die Gesundheit, weil es die Produktion von Stresshormonen hemmt und durch die erhöhte Sauerstoffzufuhr funktioniert das Gehirn besser. Und es macht einfach Spaß, gemeinsam zu lachen. (Von Fiolito / Sandra Mandl: Ich veranstalte in Berlin und Darmstadt in meiner Praxis Fiolito neben systemischer Beratung und Coaching Seminare, Workshops, Entspannungsübungen und Lachyoga.) http://www.fiolito.com/lachyoga/
Contact Improvisation Dance
(13.30 – 14.30 Uhr) @ Lottas Jitterbugs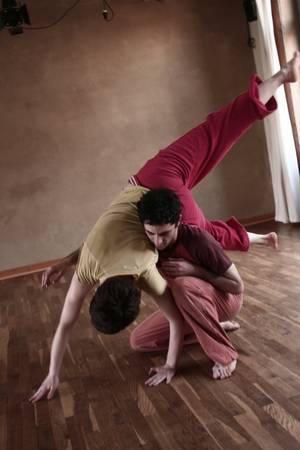 Asher Levin
studied Contact Improvisation on the floor in workshops and jams in London and Berlin, in international festivals & courses with inspiring CI teachers. He has researched intensively with chosen partners and alone. He has performed CI in various settings and contexts – including a circus big top, backed by punk rock. He has taught at several international festivals and local weekly classes at all levels.
In his practice he`s interested in opening up and delving into the full range of experience offered by Contact Impro: physical thrills and the pleasure of a shared virtuosity; the free joy of dance; the sport – full of wonderful riddles to solve; playfulness; surprise; emotional intimacy; performative moments; magical partner and group experiences. He loves the simplicity of being rich together or alone with only our own bodies. CI practice involves meeting himself as he is today. (Quelle: http://www.ponderosa-dance.de/he/bios/bios/asher-levin.html )
Local Empowerment – Polly & Bob
(13.30 – 15 Uhr) @ Lottas Jitterbugs

How to empower the people that want to make a change in the neighborhood? (obstacle, assets, solutions, get started)
www.pollyandbob.com
Swing Dance
(15 – 16 Uhr) @ Lottas Jitterbugs

Dojo4Life
(15.30 – 18:00 Uhr)@ Lottas Jitterbugs

Did you know that you are equipped with a psychological immune system that protects you from harmful change? Sadly it sees almost all change as harmful, even your own efforts to develop yourself. In Dojo4Life we have taken the best techniques of developing thinking and feeling from neuroscience and psychology as used by developmental coaches. We turned them into simple patterns you can learn and use every day to succeed. In Dojo you make rapid and lasting progress by using these patterns on your current goals with a sparring partner as mirror. For this process theDojo provides a safe, compassionate and judgement-free space. It is possible for you to be more successful, more at ease, and more satisfied. The tools are here. We invite you to master them with us.
Dance & Be Beautiful
(16.30 – 18 Uhr) @ Lottas Jitterbugs
I am an movement artist and am offering my interdisciplinary creative movement workshop, suitable for kids, adults or elder people. – Lola Karpenka http://www.lolakarpenka.com
Tango für Anfänger
(17 – 18 Uhr) @ Tangoloft
Max & Wibke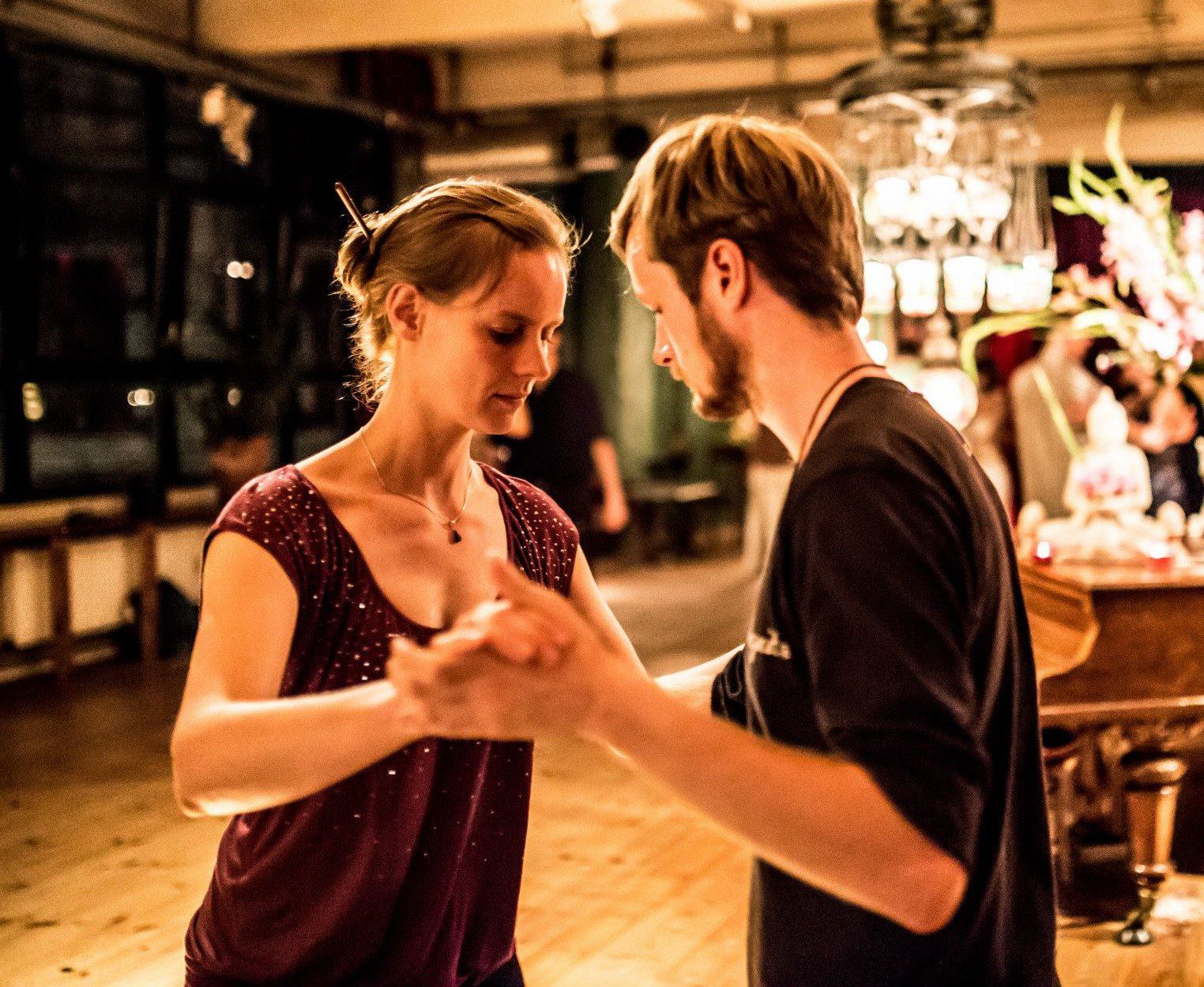 "Unsere Augen sind geschlossen. Unser Herz ist offen. Wir sprechen ohne zu reden." Tango Argentino ist ein gefühlvolles, getanztes Gespräch zwischen zwei Menschen. Dabei ist es den Tanzenden überlassen, ob es sich um einen sinnlichen Flirt, eine anregende Unterhaltung oder um einen frechen Schlagabtausch handelt. In jedem Fall lernt man sich selbst und seinen Gegenüber auf eine ganz neue Art kennen.
PsihoArt Lab: REconnect
(15 – 16.30pm) @ Baumhaus
Are you curious, open minded; like to explore and play? Do you sometimes feel like you are stuck in a loop? Did you lost contact with yourself and with others? Have a need to express your potential and creativity? Are you interested for inner journey and personal development? If some of the answers were YES, come, come!:)
Dealing with our feelings, need for intimacy and connection, personal and spiritual development – is something which is often neglected in consumerism oriented, fast pace world. In the machinery of rules, political agendas, competitions and greed, humaneness has been lost. We live fragmented lives – disconnected from our feelings, from our true self; disconnected from others; from the nature, from the Mother Earth, from the Universe… In order to bring balance back, we should reconnect with all these aspects.
Workshop REconnect is rather a small presentation of the broader project PsihoArt Lab. PsihoArt Lab is a space for personal development through the expressive arts leading to a better contact with our true selves and meaningful connections with others. Leader of the workshop: Milena Ćuk, psychologist and life coach. More about the approach and methodology, you can check here: http://licnirazvoj.com/en/workshops/