An "Open Greeting Zone" OGZ, is an area where it is ok for anyone to walk up to anyone else or a group of people and feel welcomed to introduce themself or join in the conversation.  It is a way to reframe what is socially acceptable, to shift our expectations of how we behave in situations where we do not already know people.  Creating a comfortable atmosphere for simple, direct and authentic communication…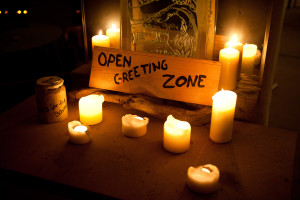 Help us transform the whole festival are into a Open Greeting Zone!  Sa 12.09. at Blink Blink, Gerichtstr. 27 VH EG (13:00 – 17:00)
Participation is open whether you consider yourself an artist or not.  Here are some guidelines for participating in this initiative to make a work of functional art:
a work of art/design the can have visible "Open Greeting Zone" or "offene Grüßzone" or "OGZ" or in any other language or any abstract aesthetic 'in the spirit of bringing people together', you decide where, how big, how (in)visible… it's your expressive interpretation!
art works / designs can be in any style, any scale and using any materials… extra appreciation if you use recycled/up-cycled materials and/or implement other principals of sustainability in making your artwork
works can be 1 or 2 sided, designed to be mounted on the end of a stick and placed into the ground, set up on a table or even hung on a wall / tree
you may help (if you like) curate where your sign will be placed in one of the event venues on Gerichtstr. in Wedding or even outdoors in the green surrounding the Panke waterway next to the building.
each work of art will be accompanied by a name shield and an explanation of the "Open Greeting Zone" initiative
your work of art is yours to do what you like with, we can store it safely over the night until Monday, Sept 14, maybe even slightly longer.
you may choose to participate in our auction with your artwork.  Interested buyers may make bids on artworks during the 2 day festival artist and designers can decide on what the minimum bid price is.  Proceeds from artworks that are sold will be divided in 2 parts: 65% to the artist / designer, 35% to the Emergent Berlin festival fund and curation team.  We will put you in direct contact with any potential buyers and you can handle any financial transactions if you like.
you may choose to take your work home with you after the festival, maybe bring it to the park or beach someday, maybe even the cafe or the next conference you go to…  you get the idea…
deadline to submit any photos, links, short artist statement is Sept. 8 at 18:00
* If you want to participate, please fill out the info on our 'Call for Participation' page.  Contact us at emergent.berlin@gmail.com with questions, comments and confirmation of your participation.