Thanks again to everyone who came out to last night's Emergent Berlin Celebration Soiree. It was quite nice getting to know each other better, exchanging some valuable perspectives and merging our networks of sustainable change-makers in Berlin and beyond. Thanks also to Alex and Ivi who produced this groovy summary video of the festival. Enjoy….
———–
Another perspective from Carlos documenting the panel discussion at art loft berlin exploring the varios dimensions of sustainability. Also included are some more shots from the various workshops and other general scenes…
———–
Some band action on Sunday…
Photos – Saturday evening and Sunday – Scott Bolden
————
———–
Emergent News 25 Sept 2015 :: Support for Emergent Berliners
Success! —> https://www.startnext.com/lokalbestellt
Lokalbestellt participated in this year's Emergent Berlin and contributed to creating and maintaining the positive atmosphere with their help, good vibes and good food.
I think Lokalbestellt can be a great alternative to all kinds of other unsustainable food delivery services including all the major global fast food restaurant chains that deliver. I think supporting and helping projects like these grow can eventually have a positive impact on everyday sustainability in Berlin or even other urban settings. Their idea is a good one worth supporting, what they do involves a lot of hard work and dedication. They certainly will not get rich with this initiative but if it works then it could help create and enrich our experience of Berlin as a sustainable city.
* Did Emergent Berlin inspire anything interesting in your life? Do you have a story, pics, video or news to share? 
———–
Personal and Social Sustainability Workshop – Living a creative life is a risky business. You set on a unique journey, creating life as it goes, breaking away from patterns that inhibit your heart's desire, following your own intuition and wisdom. Big task. In this workshop we want to make some little steps to disentangle ourselves from scripts and learned expectations. Through movement and drawing to create a state where we are more free, less attached to the outcome, and where the act of letting our hands and bodies to move spontaneously is its own outcome. Improvisation is intuition in action. sabina-abdulajeva.com
———–
Emergent News – Weds 23 Sept. 2015
– The good people at Art Loft Berlin enjoyed the vibe of the festival so much that they now want to work with us to develop a monthly event series! We just had the meeting yesterday to confirm the first 2 dates, Nov 15 & Dec 13! Stay tuned for more details and save the dates…
– Also, Aftab Omer, the CEO and President of Meridian University in San Francisco, attended the festival both days and liked it so much that he did a video interview with us before he left and is now back home developing the finer details of our new collaboration… Our first official academic partnership is growing!
– Save the date, Sa Oct 10 :: Emergent Berlin Helper and Supporters PARTY! We would like to properly thank all the wonderful and generous people who helped make this festival happen, share and celebrate our experiences and get to spend some more quality time together…. details coming soon…
Sb
IMPORTANT :: please let us know if you have any festival pictures or videos to share!!
———–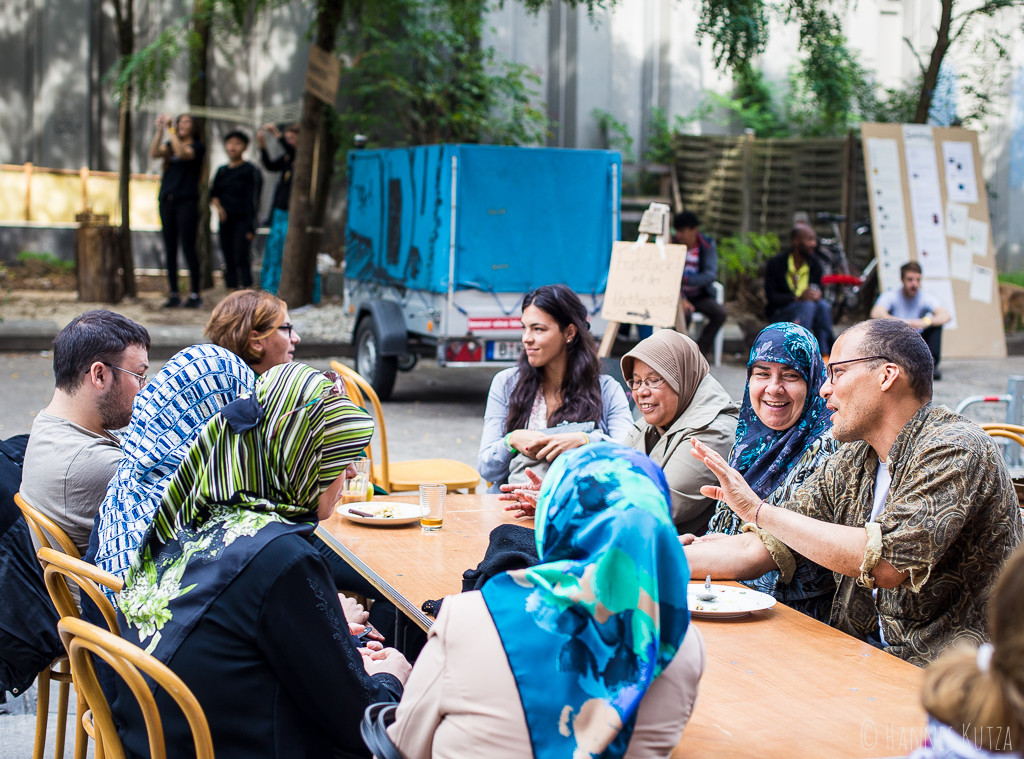 I think this is one of my favorite moments of the entire festival, sitting down and having a funny, intelligent, spirited, friendly and authentic 1/2 hour talk with the women from Weddinger Kiezmütter during the neighborhood potluck brunch on Sunday. It was the perfect opportunity to break the invisible social barriers between women with head scarves and western men with elbow holes in their shirts…
I really like my new found neighbors and they really like what we are doing with the Baumhaus Berlin project so we will be working together in the future.
————
One wonderful weekend with more than 1500 visitors!  Amazing weather, super great vibe, great workshops, presentations, activities, music, art and pretty much everything! Plus, over the course of the 2 day festival nothing was lost stolen or broken (besides a few drink bottles in the parking lot).  Thanks so much to all the wonderful volunteers and project initiatives that made this happen!
Photos – Hannes Kutza 
———–
The Real Junk Food Project Berlin is part of a global voluntary-run food waste campaign. Nutritious meals will be composed of only surplus food.  They were a super team of people who led volunteers in preparing a wonderful meal for around 350 people… Mostly from food that would have been thrown away plus some generous donations from local organic farmers like Landwirtschaft Oberhavel.  Thanks to Basti for running the Kitchen!
———–